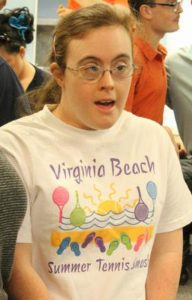 Katie Blind, Secretary and Founding Member
Katie was born in Meridian, Mississippi, on January 22,1988. She was born with Down syndrome but that has not stopped her one bit. Being a navy family, she made her 1st move at the age of five months to Virginia and has lived there ever since. She is the youngest of three children having an older brother, Patrick, and sister, Elizabeth. Katie is a Special Olympic athlete, playing tennis, basketball, and soccer.
Because she has always loved to sing (and dance), she is a member of her church choir. Whenever she visits her sister and brother-in-law in NYC, a Broadway show is always on the agenda. Katie has traveled to Japan and Austria and will most likely head back to Japan to visit her brother and his family as they have received orders once again to the Far East. She loves Broadway show tunes, country, some hip-hop, and pop music. Her I-pod is always near! Katie's hobbies are singing, dancing, & spending time with family and best friends. She dreams of singing + dancing professionally. Katie enjoyed every minute of playing the role of Eponine. She is employed by Chick-Fil-A and as you can tell, Katie has a busy happy life!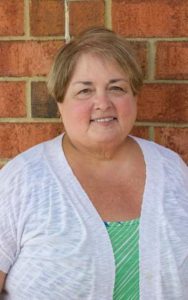 Debra Whetstone, Treasurer and Founding Member
Debra is a mother of two and a grandmother of three residing in Virginia Beach.  She has been married for 43 years to Richard, a now-retired Navy veteran of 23 years.  Originally from Ohio, she has been privileged to live in Naples Italy, Yokosuka Japan, and Okinawa Japan with always returning to Virginia which is now home.
Debra is a pianist and has been a piano teacher for 30 plus years.  She has accompanied various choirs and church's throughout this span.  She is an Adjunct Professor at Tidewater Community College, most recently teaching the Medical Assisting Program.  Debra is also an accomplished seamstress and cake decorator in her spare time.
Debra has worked with several non-profit groups and is excited to be working with AIC.  She hopes to bring more musical endeavors to the stage through fundraising and community awareness.
Anna Walker
Jennifer Gamboa
Sean Edwards
Alan Gamboa
Mary Ramsey